I have decided I need to build a small 8th army force, having only the Axis, I need something for them to fight. So here is the start of another project. The infantry will be arriving soon from Plastic Soldier Company and then I will look at which force to build
I was given these 1/76th scale Vickers MKVI's on Saturday, after our Tobruk game. Two required for Thursday game.
I made the B variant. Started from kits yesterday, with stowage. I will see at a later date which unit to make, hence no decals. My Grants are sitting in the American car park and have never seen action in the 30 to 40 years I have had them, so maybe?
Undercoat of off white, then Skeleton Bone Contrast, Agrax Wash, heavy dry brush Humbrol Khaki Drill (72). Tracks Red Brown Tamiya 64, dry Brush Chain Mail, Dry Brush Earth and highlight Humbrol Khaki Drill (72).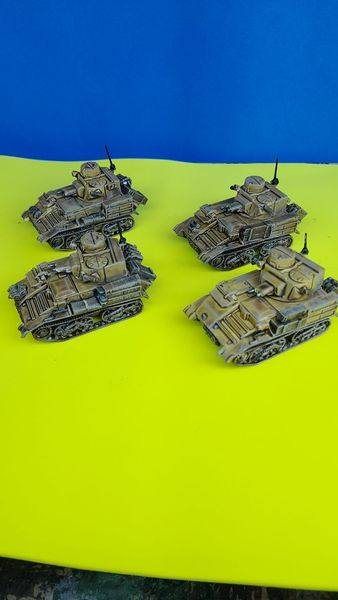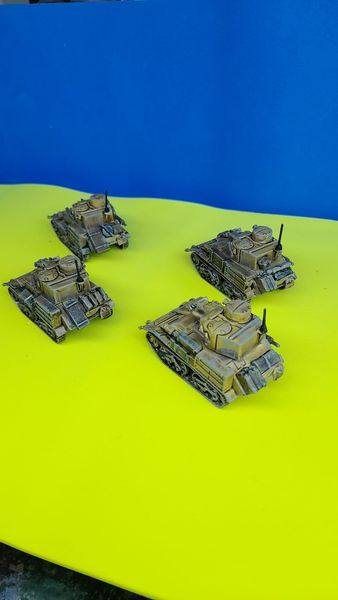 Now onto the Infantry. I got a box of 8th Army from the Plastic Soldier Company and although not the greatest resin, they do the job. I decided to undercoat in bone white, paint the flesh, any brown and then a brown wash. Here is the result so far: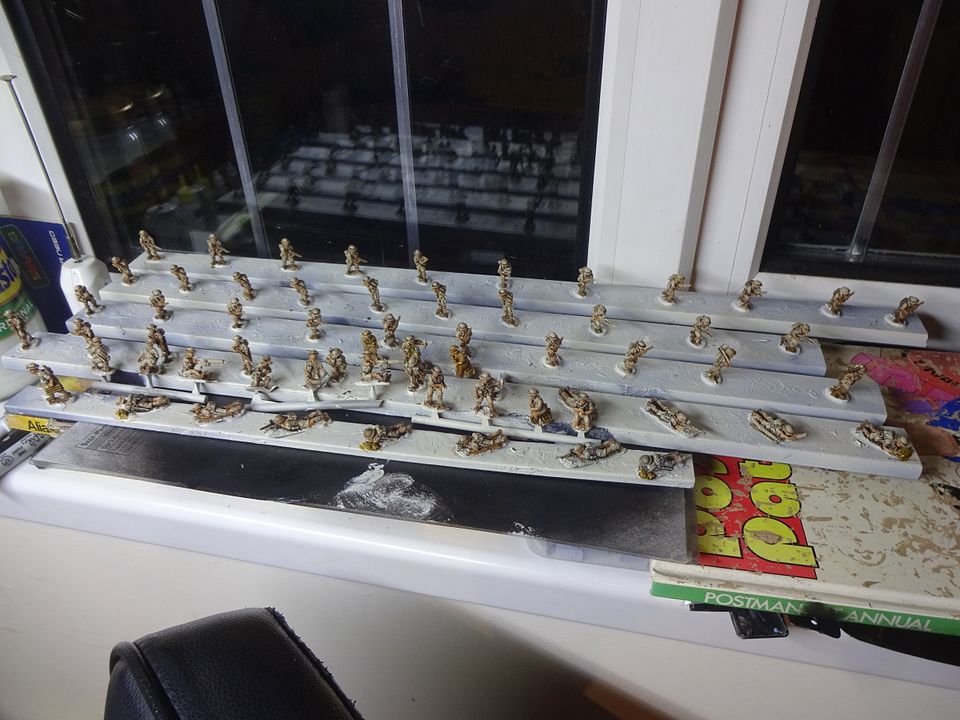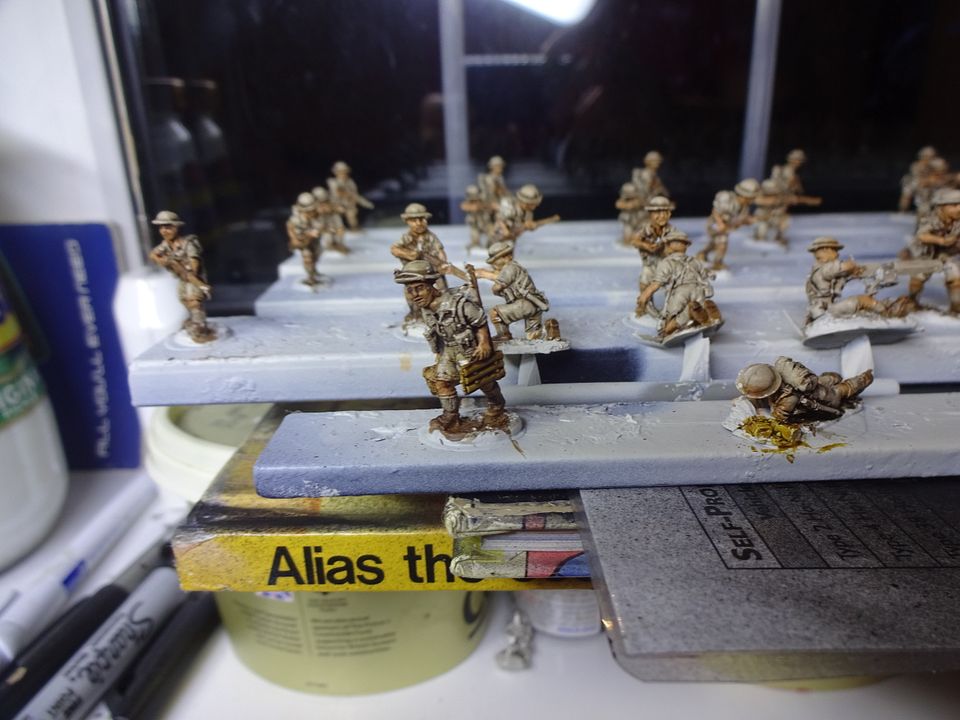 First Battalion Completed, in just two days. a couple of figures reassigned to other duties!
How I painted them: Bone White/ off white primer, block paint flesh, packs, etc Khaki Drill (Humbrol 72/ Coat D'Arms 537 Faded Khaki), Rifles, Boots Tamiya Flat Brown 10. Then wash with Agax earthshade/ Medium tone wash, Varnish and base.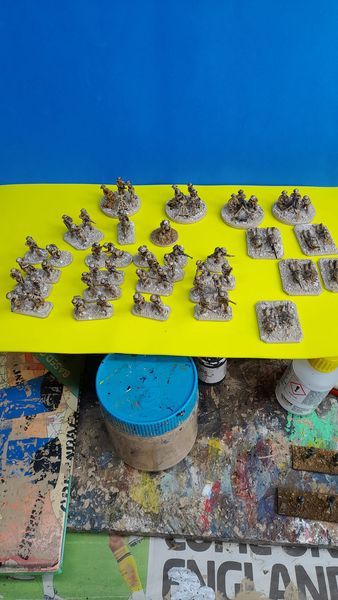 3" Mortar. The one on the left has my test figures on it. Medic in front, just needs finishing off. I used the Walking Bren Gun Loader.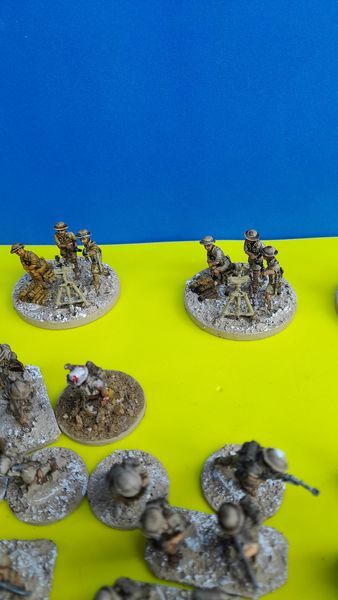 A brace of MMGs, I need another one! AT Rifle in front (converted a Bren gunner). 2" Mortar next to that. Two Bren Gun teams.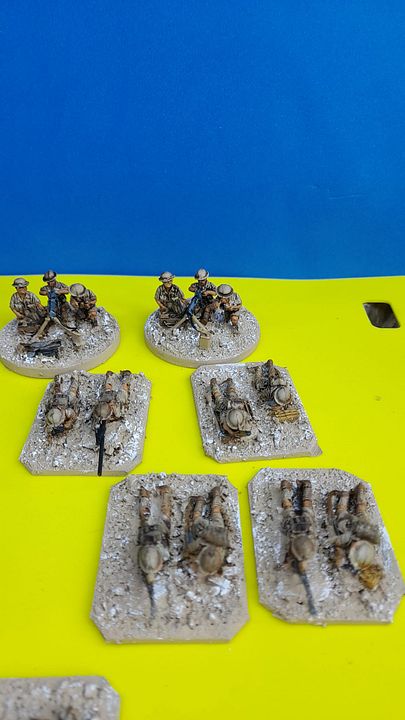 AOP Team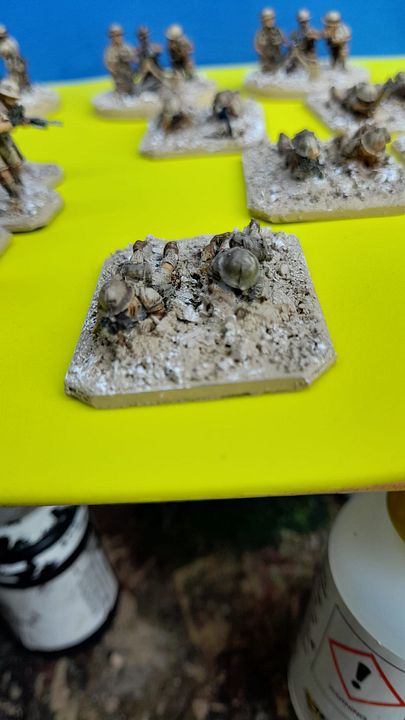 Four Infantry Companies.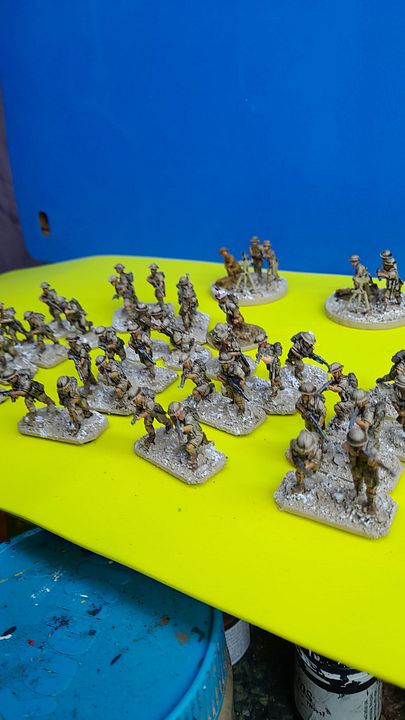 Battalion HQ Stand and 2" Mortar on the move!